– No vacancies at the moment – 
At com2C we live a freedom & ownership culture. 
That means you are your own boss, you can live out your passion to the full and design your own area. We are always looking for passionate personalities so that no day feels like a boring job. At com2C you have your own projects and a significant influence on the development of our company.
who we are 🙌
We are manufacturers of digital print media. Our family team of 10 represents the values of authenticity, appreciation and cordiality. We have been dealing with tailor-made solutions for the graphics industry for over 20 years - i.e. with consulting, development, production and sales for everything to do with coatings and inkjet printing media for large-format digital printing. 
Voices from our dedicated team
"What I like best about com2C is the family atmosphere of our small team and the great variety in everyday work. I've been with the company for almost 15 years now and haven't regretted it a day." - Heiko, Consulting & Sales
"At com2C, the team is very important! Everyone helps everyone where they can and there is a great working atmosphere." – Arno, merchant for e-commerce
our mission
We see ourselves as a source of ideas for tasks in the graphic industry/printing industry; especially in the field of digital printing/inkjet applications. Transparency and mutual respect are important to us when working together.
com2C is the employer of the future
We are proud and honored! 🏆 
com2C GmbH & Co. KG receives the "Employer of the Future" award from the German Innovation Institute for Sustainability and Digitalization. 🚀
After a successful two-stage testing process, we are underlining our commitment to innovation, sustainability and future-oriented workplace design.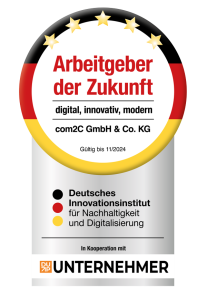 Ask the print media experts!
Contact
Would you like to get to know com2C personally or do you have any questions? We look forward to you.
address
Gänsekamp 37
D-32457 Porta Westfalica

Contact
Phone: +49 (0) 5733 / 87 85 88
Fax: +49 (0) 5733 / 87 85 88 9
Email: info@com2-c.de
office hours
Monday - Thursday 8:00 a.m. - 5:00 p.m
Friday 8:00 a.m. - 4:00 p.m
Project Request