KAVALAN PVC FREE BANNER RANGE
A breakthrough green replacement for PVC print media
 – Now available from com2C –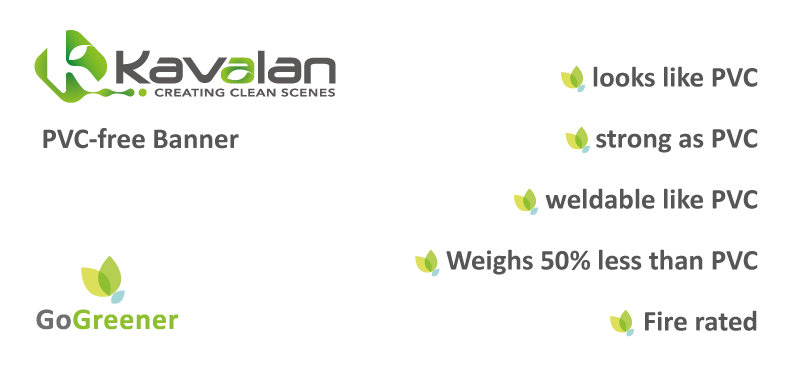 About Kavalan / TAYA Group
Founded in 1989, the TAYA Group manufactures innovative composite textiles in 11 production lines across 70,000 square metres. With over 110 looms, a great environmental awareness and the Kavalan brand, TAYA has set out to revolutionise the field of digital print media. TAYA's research and development team started developing the first generation of PVC-free print media back in 2008. Subsequently, the Kavalan brand was established to expand a completely environmentally friendly product range. Particularly noteworthy is the first PVC-free banner material range in widths of up to 5 metres. Rapid media availability and stable supply chains continue to distinguish our partner Kavalan.
We are delighted to be able to offer the green revolution in the inkjet market to our customers in Germany. 
CERTIFIED PVC FREE BANNER MEDIA
All current KAVALAN products have passed the LCA certifications.
In the LCA (Life Cycle Assessment) process, products are analysed in terms of their consumption of energy and resources. With this LCA, the environmental impact is considered in its entirety. It involves a great many factors, for example: What raw materials are used in production and where do they come from? How is production carried out (energy consumption, production processes, production sites)? How are the goods transported?
LCA Life Cycle Assessment
On behalf of Taya, revered inspection and validation service SGS (formerly Societe Generale de Surveillance) has completed LCAs on the latest KAVALAN range. From its significantly lower carbon footprint and lower water consumption, to its amazing non-toxic biodegradable film, the LCAs confirm what we already knew – the eco credentials of KAVALAN are far superior to PVC banner. And we have the numbers to prove it! 
The LCA process forms part of the ISO 14000 series of internationally recognised standards for environmental management. lt analyses the environmental impact of a product, from cradle to grave, and combines historical data, test results and scientific measurements to produce analysis for various environmental impacts such as climate change, pollution, biodiversity decline, algae growth, and water consumption, among others. 
The LCA is perfect for providing direct environmental comparisons between products and allow customers to make purchasing decisions not solely on cost but also environmental impact. The LCA looks at the three stages of a product's life: 
Upstream activities 
raw material extraction production and packaging 
Core activities 
transportation energy and water usage and production 
Downstream 
end of life activities waste management and disposal 
All these processes have an Impact on the environment and numerical evaluation provided by the LCA shows we can no longer hide behind subjectiv assumptions or so called professional opinions; the numbers don't lie!
Rob Karpenko, European Sales Director, Kavalan, comments: "We're delighted to have com2C on board as a partner as we continue to expand our distribution network in Europe. The company's vision for the future both for com2C and the large-format industry is perfectly in line with KAVALAN's mission. We agree that there will soon be no place for environmentally harmful products in our industry, so we are excited to work together to ensure the responsible choice for businesses in Germany is also the easiest, best quality choice." 
André Kapsa, Managing Director, com2C, says: "We are very happy about the partnership with KAVALAN and convinced that the demand for digital print media with eco-friendly properties will increase in the German market. Having a partner at our side who, like us, consistently pursues a green strategy is a real gain for us and our customers. Right from the start KAVALAN's extensive PVC-free banner range and the company's consistent green orientation were exciting for com2C. KAVALAN is considered as one of the pioneers who reacted to the signs of the times early on."
🌿 com2C is getting even greener 
Since com2C was founded in 2006, we have expanded our environmental portfolio and developed the GoGreener product range, which includes numerous PVC-free products and 100% recycled materials. Currently, 64% of com2C's products have environmentally friendly features. Our goal is to be able to offer a completely PVC-free range.
PVC-FREE BANNER PRINT MEDIA
The complete KAVALAN-range

Gecko, our greyback PVC-free digital print material, will stick with you. Coated with PVC-free resin, Gecko is perfect for wall decoration. For interior design and event decoration excellence, you can't go wrong with a one-piece paste-up Gecko wall covering, complete with a self-adhesive backing option to make application a dream. Available in widths up to 5m, the Gecko wall decoration can be used with Latex and UV inks. 
Specifically made for interior designers, architects and creative agencies, coupled with today's digital printing technologies, there are no limits to creativity when Gecko is applied to customised designs on walls and ceilings.
Speziell für Innenarchitekten, Architekten und Kreativagenturen entwickelt, sind der Kreativität keine Grenzen gesetzt, wenn Gecko für individuelle Designs an Wänden und Decken eingesetzt wird.
KAVALAN's high-quality banner materials has a perfect companion in Snail tape. PVC-free of course, this welding tape is so easy to use, boasts outstanding adhesive strength, and is perfect for high frequency (HF) and hot wedge (HW) welding.
Snail is specifically formulated for the welding of all KAVALAN products.
Robust and remarkable like a dragonfly's wings, this KAVALAN light-weight PVC-free keder is perfect for securing and protecting large-format banner applications when combined with PP core and KAVALAN's PVC-free fabric. Dragonfly keder offers maximum strength and preservation, without losing impact.
Made with Kavalan's PVC-free fabric, Dragonfly is a light-weight, weldable PVC-free keder and is a perfect enhancement for securing indoor and outdoor wide format banner applications.